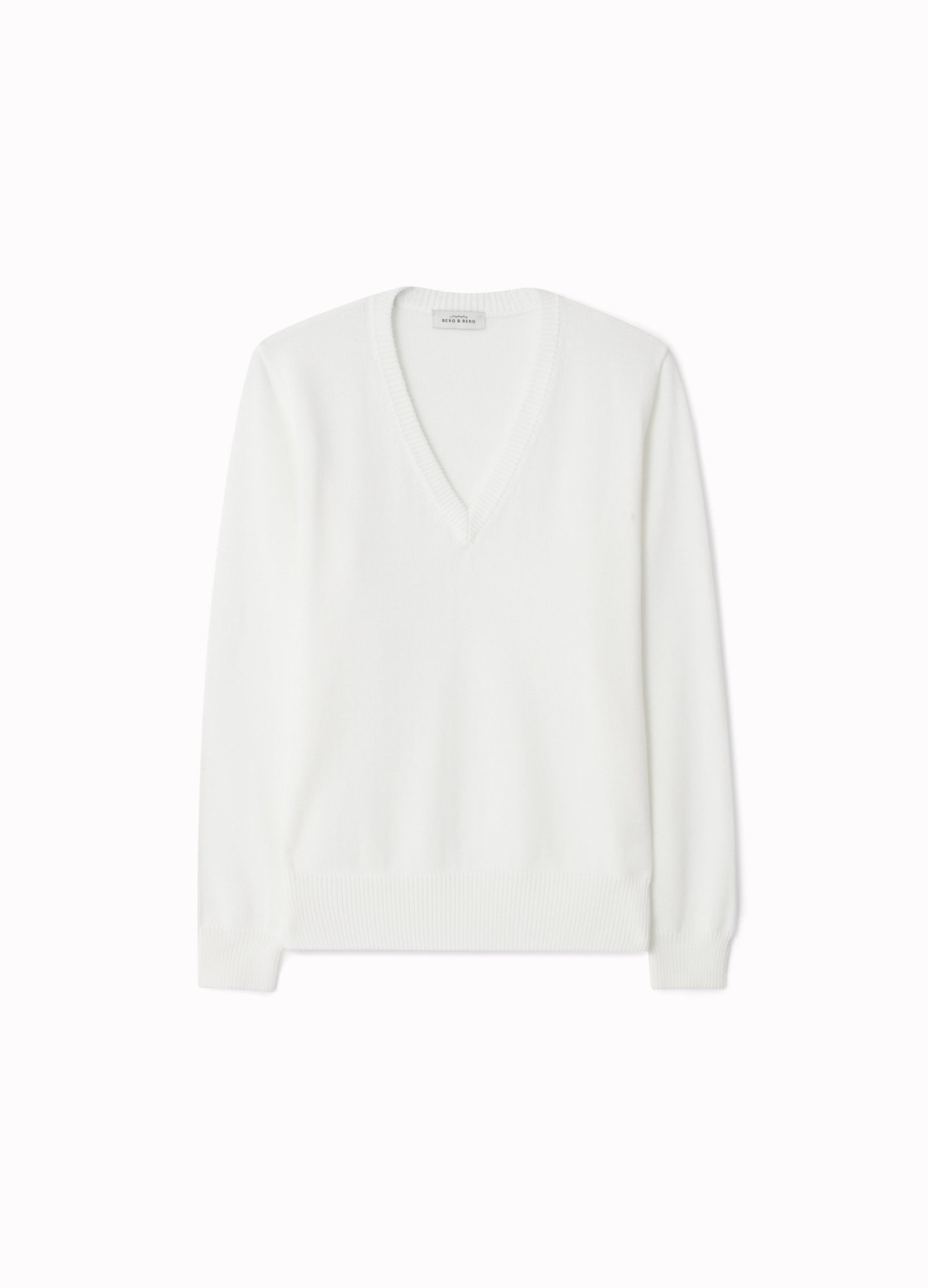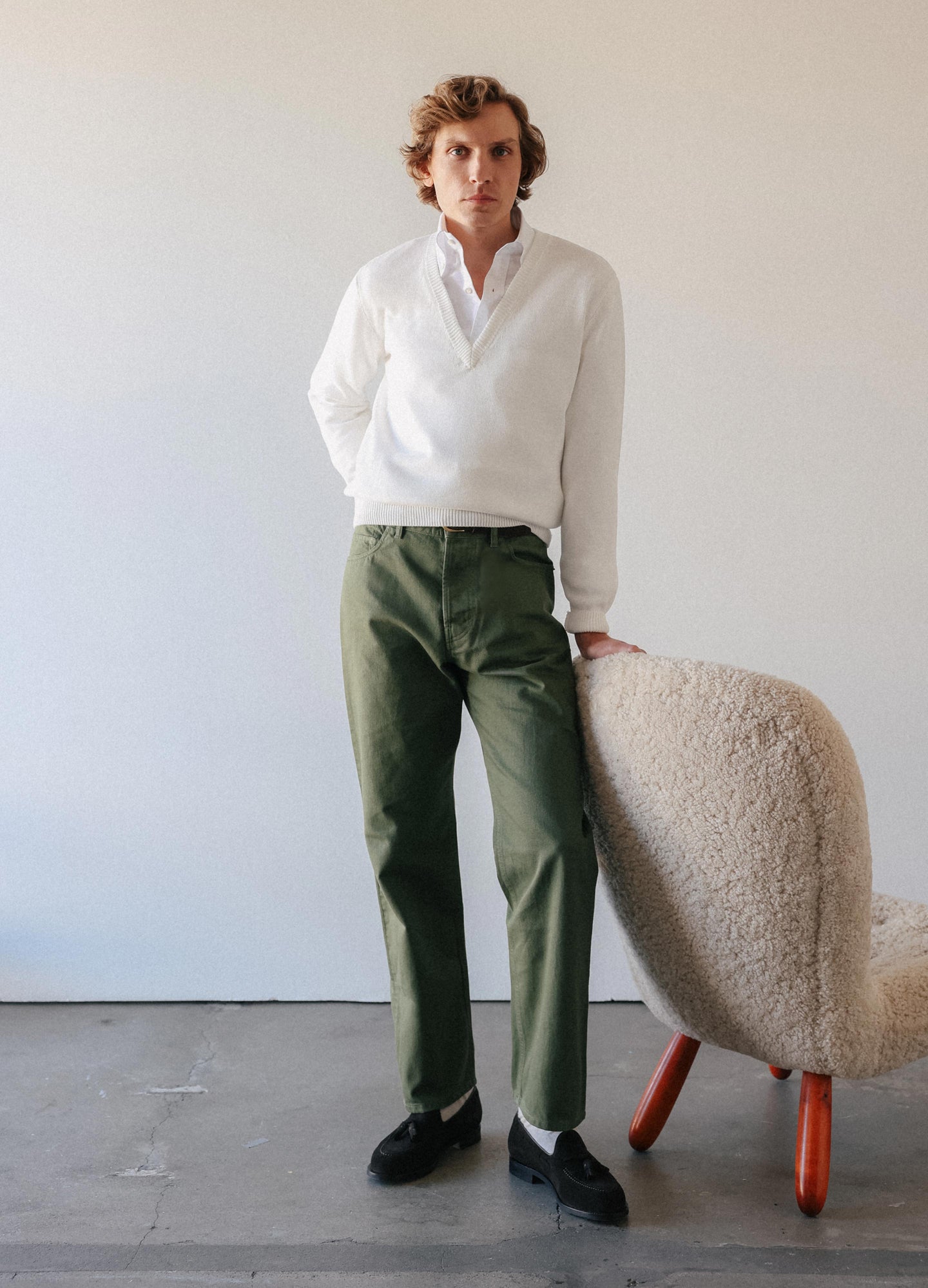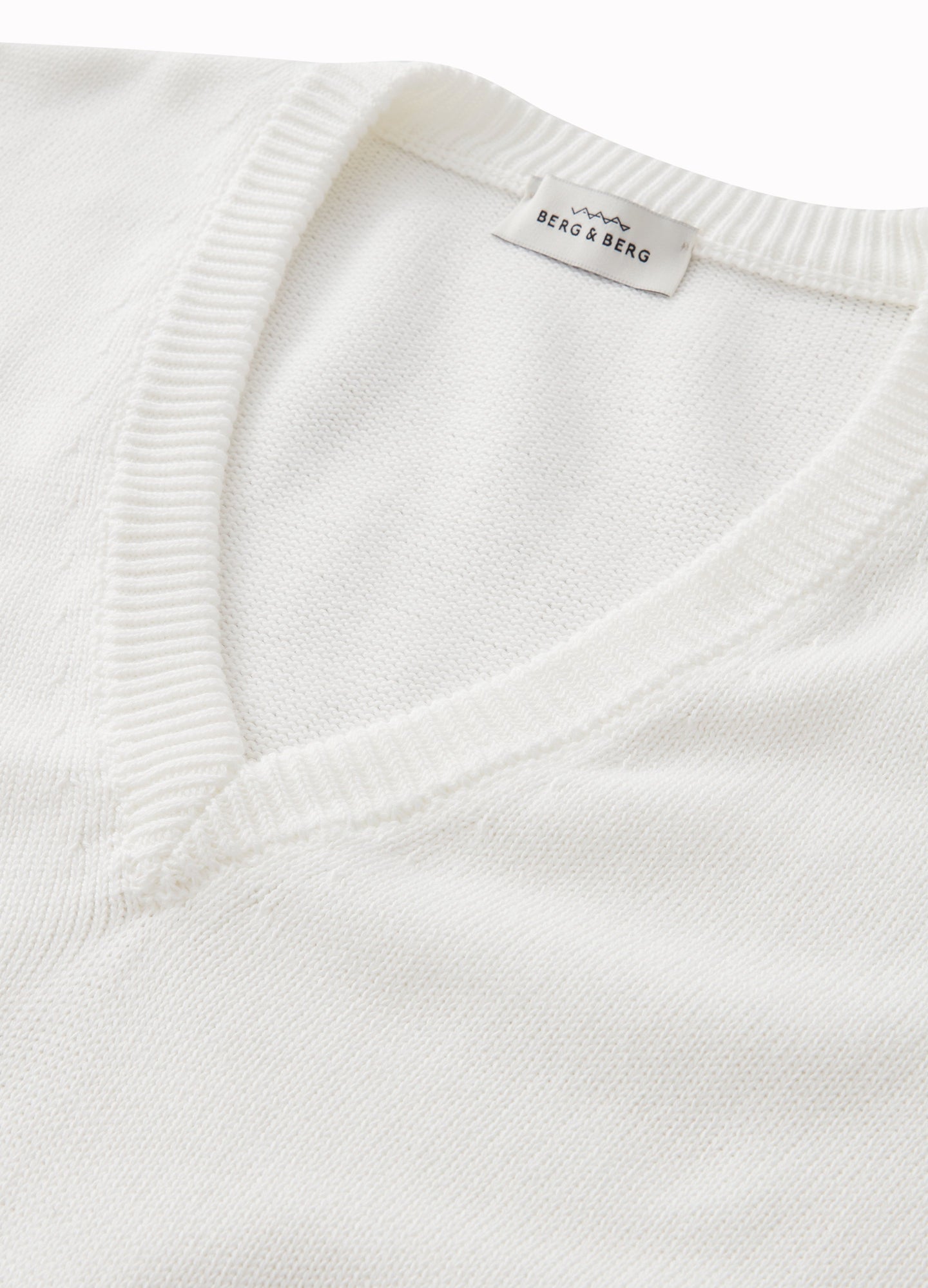 BJÖRN
V-Neck Sweater

Ecru
Crafted from a compact cotton yarn with a sturdy texture, Björn features a flattering deep v-neck, making it easy to wear over a shirt, polo or t-shirt. Knitted in Italy, Björn has a regular fit through the body and comes in navy, cream, and olive.
---
Details
100% cotton
Suitable all year

Made in Italy
---
Fit & Sizing
Use your regular size

Regular fit
---
Washing instructions
Wash and iron inside out

Hand wash 30 degrees
---
Shipping & Returns
Shipping with DHL (Europe) and FedEx (rest of the world)
Free shipping on orders above 300 €
Delivery within 2-5 working days, depending on location
No additional duties, taxes or fees at delivery in the EU
Safe payments with credit card, Apple Pay, Google Pay, PayPal or Klarna (in certain markets)
30 days return policy (Please note: We do not accept returns for archive items from outside the EU)
---
How to measure?
Measurements in cm and inches
Measured flat on garment
Shoulders measured from left to right shoulder seam
Chest measured from left to right armpit
Waist measured at narrowest point
Sleeves measured from shoulder seam to sleeve cuff
Length measured centre back from collar seam to hem
---
Björn (cm)
| | | | | | |
| --- | --- | --- | --- | --- | --- |
| | Shoulders | Chest | Waist | Length | Sleeves |
| XXS | 40 | 50 | 49 | 58 | 62 |
| XS | 41 | 51 | 50 | 60 | 64 |
| S | 42 | 52 | 51 | 62 | 64 |
| M | 43 | 55 | 54 | 64 | 65 |
| L | 44 | 56 | 55 | 66 | 66 |
| XL | 47 | 60 | 58 | 68 | 67 |
| XXL | 49 | 62 | 60 | 70 | 68 |
Björn (inches)
| | | | | | |
| --- | --- | --- | --- | --- | --- |
| | Shoulders | Chest | Waist | Length | Sleeves |
| XXS | 15,7 | 19,7 | 19,3 | 22,8 | 24,4 |
| XS | 16,1 | 20,1 | 19,7 | 23,6 | 25,2 |
| S | 16,5 | 20,5 | 20,1 | 24,4 | 25,2 |
| M | 16,9 | 21,7 | 21,3 | 25,2 | 25,6 |
| L | 17,3 | 22 | 21,7 | 26 | 26 |
| XL | 18,5 | 23,6 | 22,8 | 26,8 | 26,4 |
| XXL | 19,3 | 24,4 | 23,6 | 27,5 | 26,8 |